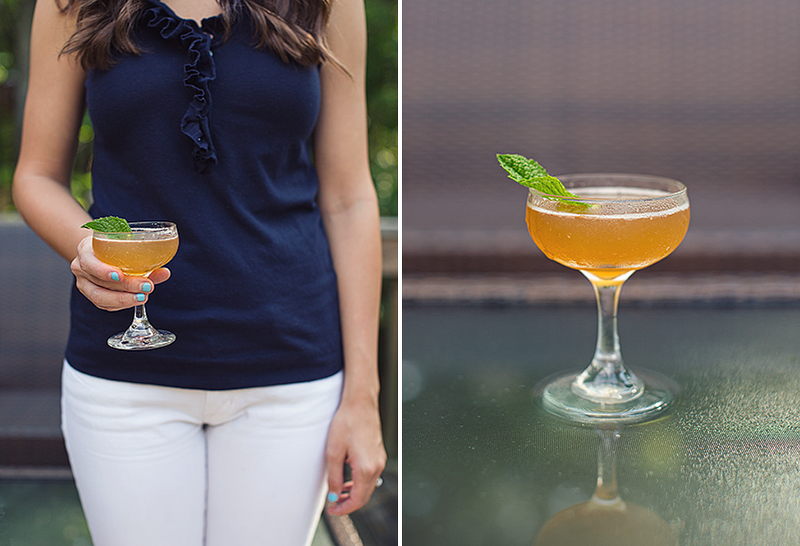 A few weeks ago, Jamie Clayton and I were in Athens to shoot a wedding together. We didn't have to be there until 4:00, so we decided to grab a late lunch at The National, a place neither of us had been. Naturally, we sat at the bar, ordered two of their cocktails, and started some heavy snacking. About an hour later, we found ourselves in good conversation with the bartender on duty, John Honeycutt. It was time for another drink, so Jamie asked if he'd be up for creating something new together. He was, as we were the only people in the bar. How about juicing that grapefruit? Let's add bourbon and simple syrup. Definitely shake it. Oh! Chill a coupe.
We thought it was good, but it needed something else. Got any fresh mint? Perfect.
So, the second draft was born, and it was better, but it wasn't complete. With 1 oz of simple syrup, it was a tad too sweet for all of us, and in need of some bitters.
So John adjusted; less simple syrup, added bitters, and voilà. The third was fantastic.
We were all excited over this one, and declared that it needed a name. Jamie asked John what his favorite name for a girl was. "Helen," he replied. "It's my grandmothers name."
"Then this is going to be the Mt. Saint Helen."
The Drink:
2 oz bourbon – we used Bulleit
1/2 oz fresh grapefruit juice
1/2 oz simple syrup
2 mint leaves
Lightly muddle simple syrup, 2 dash bitters and 2 mint leaves in a cocktail shaker.
Add bourbon, grapefruit juice and ice.
Shake and strain into a chilled coupe.
Garnish with 1 large mint leaf.
The Glass: Coupe from The Boston Shaker.
The Attire: Kristen in a J.Crew top and Ralph Lauren jeans.