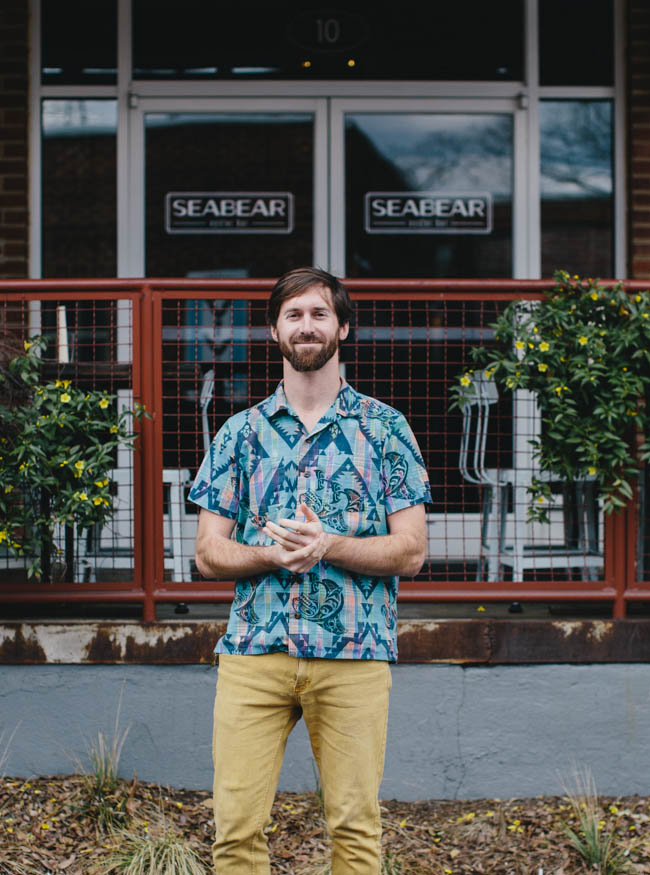 Polo shirt, a birthday gift from an old friend. On regular Tiki Night rotation.
And now, our last post from the epic day of drinking through Athens last month (see Part I and Part II). It was the perfect finale at Seabear with Hunt Revell, leader of the Bar Team. We posted up at the bar and wound down with beach vibes, my favorite Negroni Slushy (okay, fine, I had 2 of them), mini lobster rolls and a Manchester United game on (go Red Devils)!
Raised in:
Augusta, Georgia
Lives in:
Athens, Georgia
How you landed at Seabear:
I worked at 5&10 out of college, bussing tables, expo-ing, serving, and finally bartending. Then I helped open The National in 2007 as a bartender. After that, I moved to New York for a few years. When I came back to Athens, I was back at The National and eventually took over the bar at Seabear last year after a few people moved on.
Favorite cocktail on your current menu:
Probably the Fish House Punch. It's an old-style drink, coming out of Philadelphia as early as the mid-18th century but popular during most of the 19th. Our version includes green tea with the usual dark rum, cognac, peach brandy. Add fresh citrus, sugar, and sparkling wine, and the party is on!
Guilty pleasure drink of choice:
Vodka, soda, lemon. It's just clean and crushable and the hangover is nil.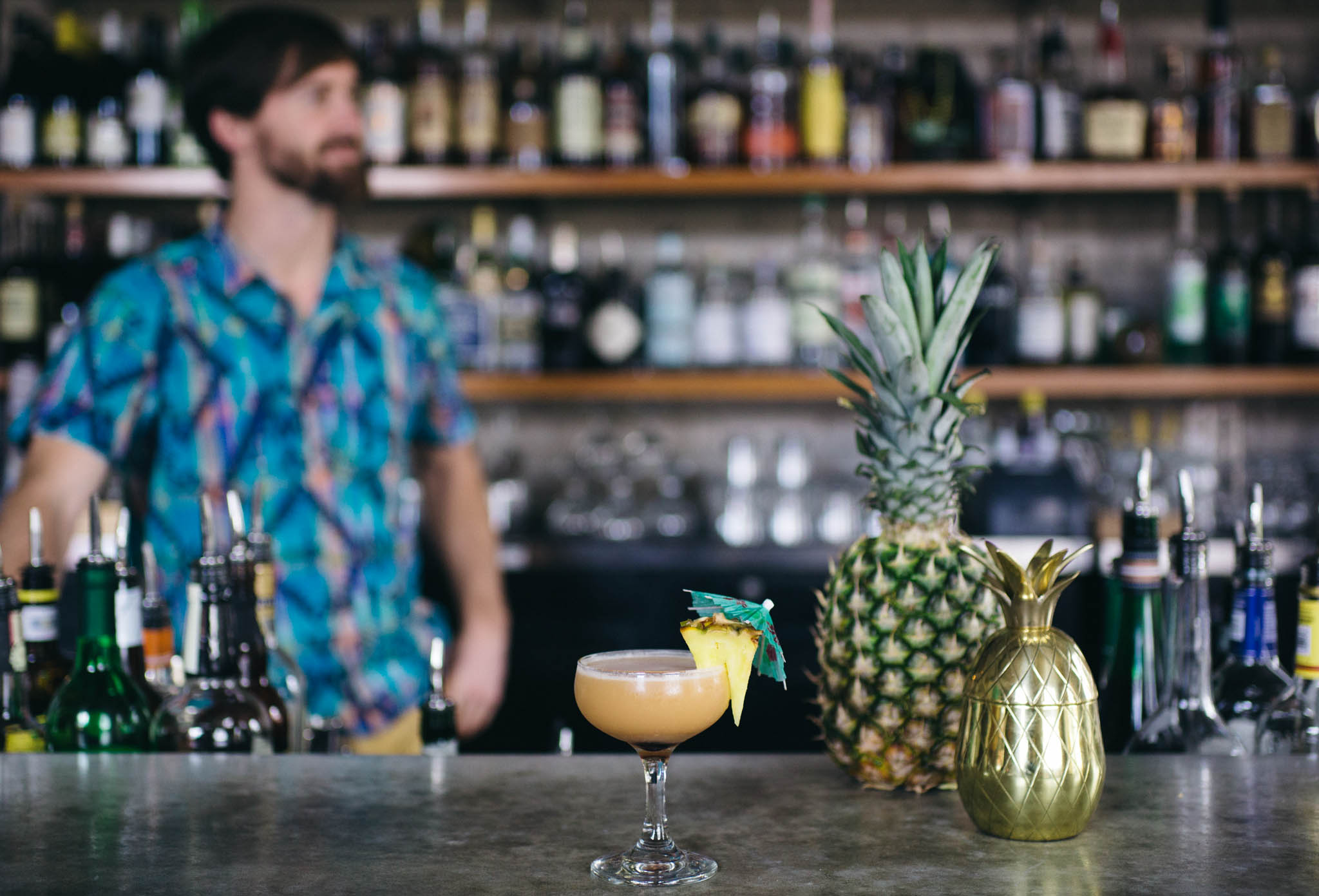 Professor Seagull:
I found the basis for the recipe in a down-the-rabbit-hole search for old Tiki cocktails (we do a Tiki Night and in general run a rum-heavy, beach party-vibe bar as much as possible). I'd been making some house coconut rum because most of the stuff you can buy is just too sweet and syrupy, and I wanted to find a drink to use it on. The drink I found was called "The Professor" and was apparently named for the Professor on Gilligan's Island (which I think is awesome). It was equal parts coconut rum, white rum, banana liqueur (which we also make in house) and orgeat. We tweak it by adding toasted pecans to the usually almond-heavy orgeat, and I altered the name to reflect one of my favorite stories about a raving genius who roamed the Bowery of New York and claimed to understand the language of seagulls, a story written by Joseph Mitchell called "Professor Seagull". I highly recommend the story, and the drink isn't bad either.
Note: get that sexy pineapple tumbler on Huckberry.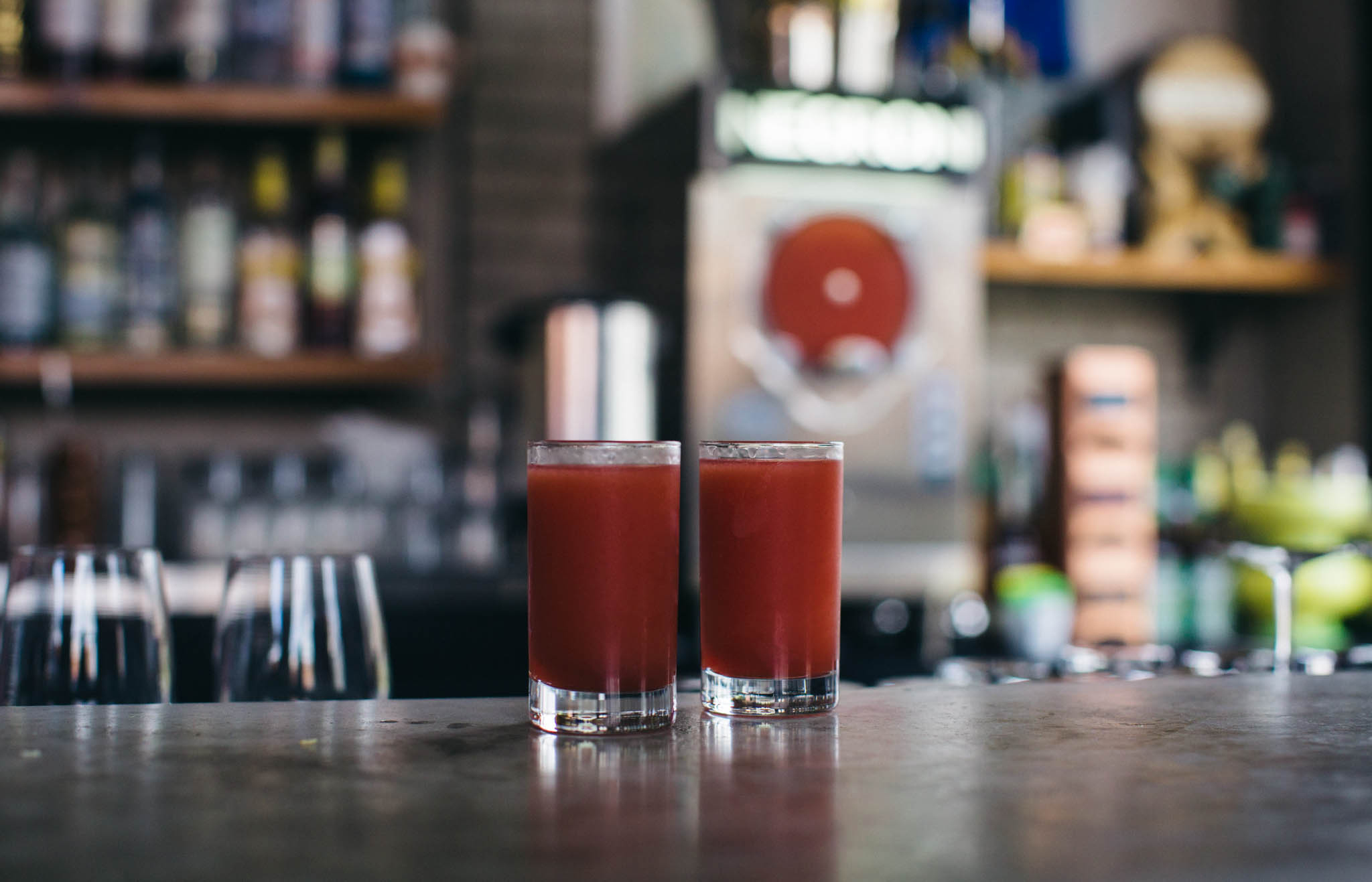 Negroni Slushy:
Since a Negroni is normally straight alcohol (equal parts gin, sweet vermouth, and campari), we had to add a little sugar to make it freeze.  We do this with orange juice (orange peel being a common garnish for Negroni) and a little simple syrup.  It's so bitter and refreshing and it kind of has a cult following here in Athens.