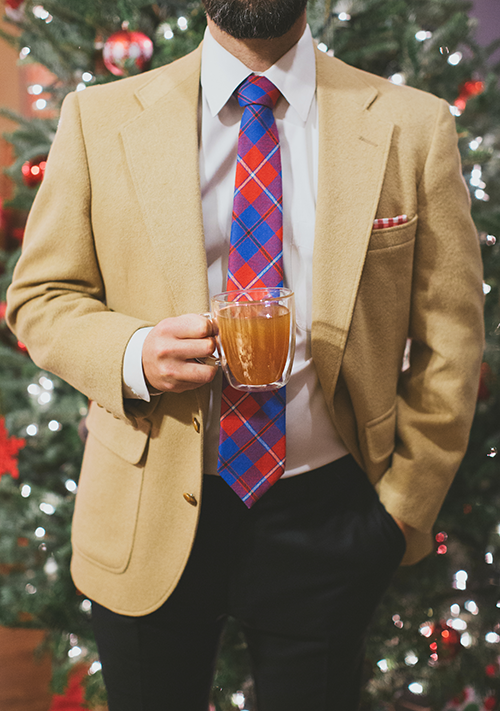 I will never forget the first time I had wassail. I was in high school at a Young Life event wearing a Christmas sweater. My Young Leader handed me a mug of what I assumed was just hot apple cider. What was in the mug, however, changed my life. I fell hard in love with this glorious, Yuletide concoction called wassail. 
Off I went to college to discover that the one of the best traditions we'd partake in every year was Denton's Wassail Fest. Store after store in the square giving samples of different wassail tastings, accompanied by a square full of festivities, almost always ending in a town dance party to Denton's own Brave Combo. They were some of the best of days, and I miss it every December.
I've tried dozens of wassail variations, and personally I think the more simple, the better. Historically, wassail was a hot drink made of ale, sherry, sugar and spices. Since, it's evolved into a hot juice toddy. You'll see recipes with wine or fruit juice versions, but in my humble, wassail obsessed opinion, the best wassail base is apple cider. Below is my favorite recipe that I slightly adapted from The Kitchn. It's almost the exact same recipe I that first time in high school, but without pineapple juice, which makes it too sweet for my palate.
The Drink: My introduction to wassail was a non alcoholic version – quite delicious on it's own. Adding bourbon, of course, just makes it even better.
Serves 6
6 cups apple cider
1 cup orange juice
6 cinnamon sticks
Handful whole cloves
1 tbsp brown sugar – if you're out, regular sugar works just fine
A couple dashes Allspice
Juice of 1 lemon
Bourbon
Put all ingredients, minus bourbon, in a pot on the stove.
Bring to a low boil and reduce to simmer.
The longer you let it sit, the better it'll be (I recommend at least 2 hours before serving).
Add 2 – 3 oz bourbon in a mug and top with wassail.
The Glass: Bodum bistro mug.
The Attire: