Welcome to a new series, Drink This. If you follow the Tweets and/or 'Grams, you know that we often share delicious beverages that we come across, or make ourselves. It's time to extend the beverage love to the blog. Here, we'll be sharing favorites from beers to bourbons, and classics to new creations. Cheers!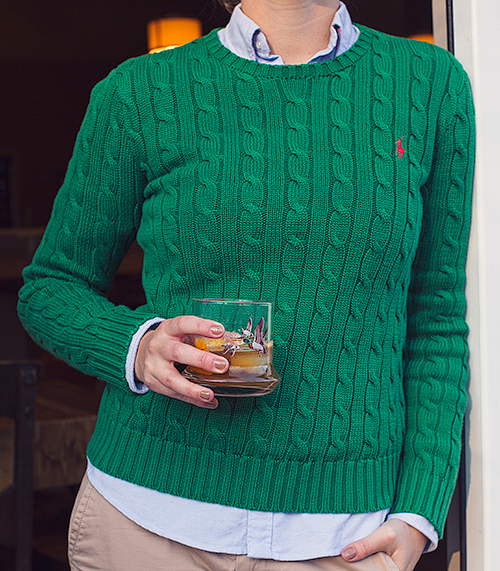 The Drink: I had my first Toronto on Saturday at Leon's Full Service in Decatur, GA. Every night since, I've made one at home. A few months ago, I impulsively bought a bottle of Fernet-Branca and hadn't opened it…until now. Ignore the Canadian whiskey that this was originally intended for and use 2 oz American Rye (I've been using Sazerac). Add 1/4 oz simple syrup (take it up a notch with Demerara), 1/4 oz Fernet, and 2 dashes Angostura bitters. Stir for about 20 seconds in a mixing glass filled with ice, strain into your cocktail glass and garnish with an orange peel.
The Glass: $2.19 mallard glass found antiquing in Jasper, Georgia.
The Attire: