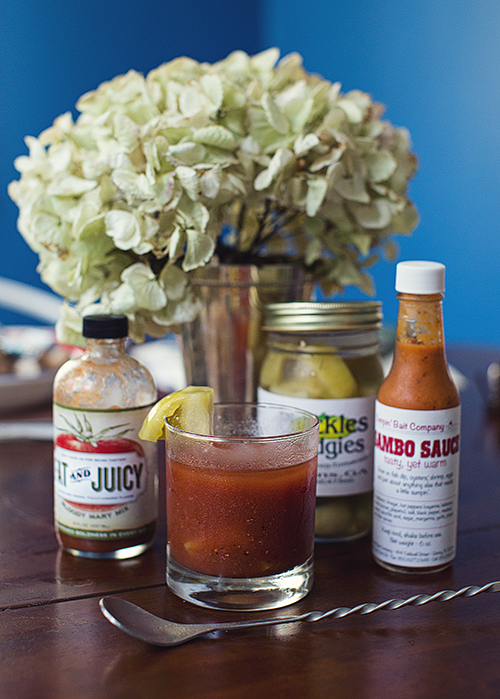 We haven't been Bloody Mary people whatsoever, but I (Caroline) have always wanted to like them. I've always loved the idea of them, and love all things tomato…except a Bloody Mary. Anytime I'd be at brunch with friends and someone would order one, I'd always try and it, and every time I'd say "I know I'll like this one day."
That day is finally here.
Over the past few months, I've tried some that I could handle more than just a sip of. In fact, I wanted another sip. And then, in some sort of cocktailian fate, Fat and Juicy reached out to me asking if I'd like to try their Bloody Mary mix. I obliged with the warning that they may be hearing back with an "It's not you, it's me," email.
When it arrived, I thought it was necessary to try it alongside a Bloody Mary lover. I took it with me to Jess's house, a place that is no stranger to day drinking during our photo shoots. Together, with a few additional Southern brands, we whipped up a Bloody Mary that was dang good, y'all. Jess approved and erry'thang.
The Drink:
Stir it all together with ice.
We garnished with a pickled green tomato by Phickles Pickles and highly recommend that you do the same.
The Glass: Found at HomeGoods.