A few years ago we featured The AC Slater by Jamie Clayton on one of our takeovers. It's still one of my favorite cocktails he's thought up and I make it all the time. While researching ideas for this takeover, AC came to mind as something that could be delicious with the simple swap from gin to mezcal. This text conversation with Jamie followed…
Caroline: What do you think about AC Slater being revisited with mezcal instead of Gin?? AC Slater's Mexican Vacay?
Jamie: AC slater with mezcal is amazing and should be called the AC Slayer.
Caroline: Ahhhh…have you done it?
Jamie: I made it a few weeks ago
So, here it is. Jamie approved, Jamie renamed.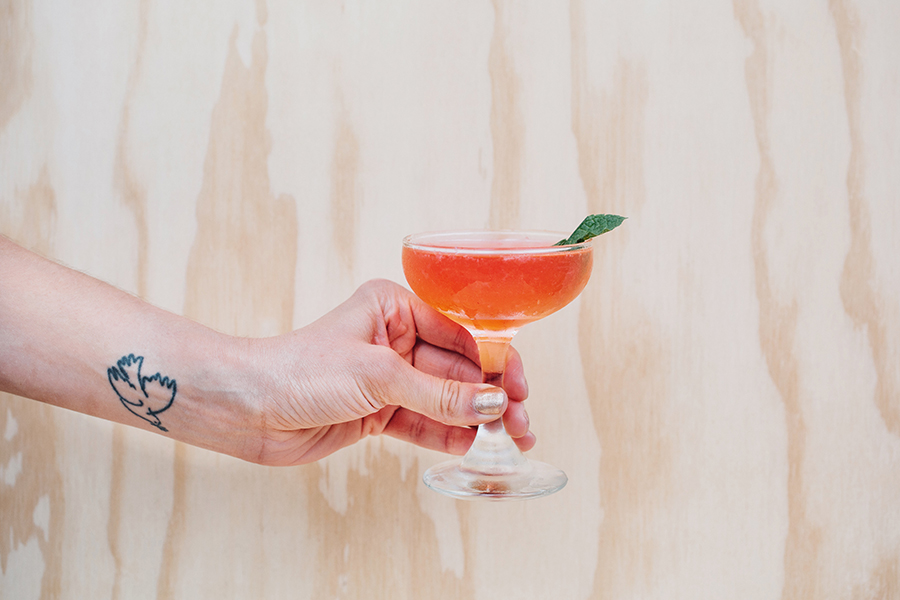 The coolest thing about a spirit so complex as mezcal is that this now tastes like a completely new recipe when in fact, the only thing that's changed is the base.
2 oz Mezcal – we used Fidencio
3/4 oz simple syrup
1/3 oz St. Germain
1/8 lemon
1 strawberry
Mint
In a shaker, muddle lemon, strawberry and one sprig of mint (smack the mint before you muddle to release the oils).
Add gin, simple syrup, St-Germain and 2 dash lavender bitters.
Add ice, shake and strain into a chilled coupe.
Garnish with a mint leaf.

Thank you to Drizly for sponsoring our Mezcal Takeover by providing a portion of the ingredients! See the other two recipes here and here. Cheers!