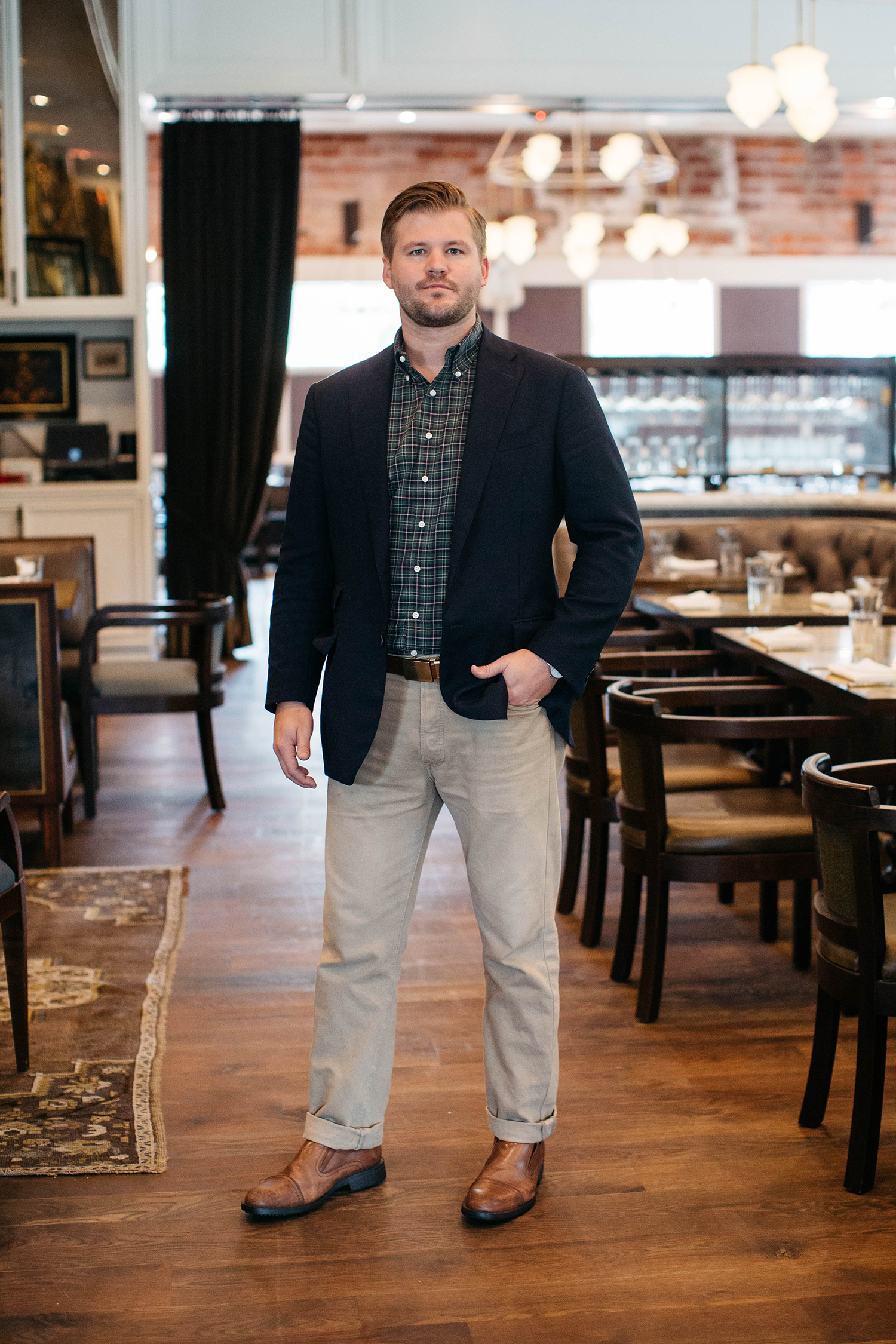 Photographed in Houston, TX
Raised in: 
Greenville, South Carolina
Lives in:
Houston, Texas
Favorite thing about your move to Houston:
Definitely the people!  So much authenticity and generosity in this town. The restaurant and sommelier community here is fantastic and just like Atlanta everyone is really supportive and happy to see each other succeed! Also, the humidity is great for my skin I'm told!
Go-to cocktail order at State of Grace:  
The two on our specialty cocktail menu right now that are my favorites are the Southside, Antique and the La Parilla. The Antique is our play on a classic Southside cocktail with local Texas Waterloo barrel aged gin with citrus, fresh mint, and grapefruit bitters. The Parilla is our spin on a smoky margarita with Reposado Tequila that has been infused with blistered Serrano chiles, grilled lime juice, smoked salt rim, and a Mezcal float. 
From start to finish, what's your take on the perfect dinner from the current menu:
The twice fried Korean style hot chicken has to be on the table along with the Gulf crab hushpuppies (they're like dessert!) along with Chef Bobby's hearth roasted Spanish octopus with Thai curry vinaigrette that is hands down the most tender octopus I have had. Of course we would need something to bring all of that into balance and I would pair that with our Schloss Gobelsburg, "Gobelsburger" dry Riesling from the Kamptal in Austria that we offer by the glass. Moving into an absolutely necessary mid-course of our new to the menu Caramelle pasta and the Lasagnette di Crespelle. The Caramelle is house made pasta with a confit duck filling on a bed of kimchi folded in with butter, daikon radish, and crispy garlic, while the Lasagnette is essentially a mushroom lasagna with house made crepes used instead of pasta ribbons. Would need to have our Solena Estate "Grand Cuvee" Pinot Noir from Willamette Valley, Oregon to pair with that. For entrees you have to go with the Sticky, Smoky Beef Rib! It is Jurassic in size and has the flavor to match. It literally falls off of the bone and comes with pickled watermelon rind, an herb salad and house made Malaysian Roti bread to deliver all of that deliciousness! I would have to see how our by the glass, 1998 Saint Emilion Grand Cru Bordeaux(Chateau Queyron Pin du Fleurs), paired with that! For dessert I have to go with the Sticky Toffee Pudding!  
Now would ya look at that:
Meet Matt Crawford, General Manager of Ford Fry's State of Grace. We don't even live in Houston yet and have eaten here twice in it's year of business. Chef Bobby Matos' heavy Gulf Coast menu grounded in Texan roots celebrates it's anniversary on October 23rd and we'll be there!