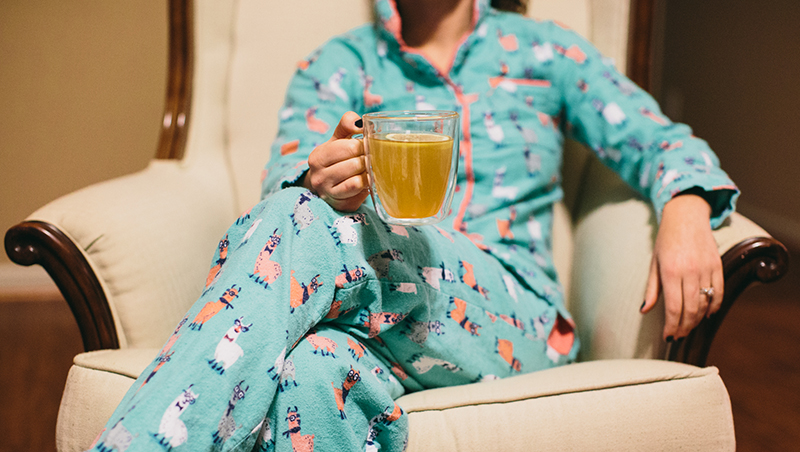 The Drink: I had my first Hot Toddy in college. I came home sick and my Dad made me one. Not a whiskey drinker at the time, this was just a glass of hot medicine to me, prescribed by Dr. Dad, and you know what? I liked it. At the time, I had only just learned how to get a fake id and was completely oblivious to the delightful taste of whiskey. And you know what else? I did feel better…
All these years later, the Hot Toddy has become one of my favorite whiskey drinks. Next to wassail, which I only drink around Christmas, it's a go to winter evening cocktail. And like wassail, there's a ton of ways to make it. The most classic is incredibly simple – shot of whiskey, spoonful of honey, squeeze of lemon and hot water. Stir it with a cinnamon stick. Ain't nothin' wrong with that.
Once I started making these on nights that I wasn't sick, I decided to up my Toddy game. So far, The Tippler's recipe (slightly adapted) has been my favorite since discovering it in an Imbibe issue last year. My only two changes: I use Laird's Applejack (an American apple brandy) instead of a Calvados (apple brandy from Normandy), and I use straight honey instead of honey syrup. The reason for the former is simply because I already had a bottle. The reason for the later is because it's just one less step in the prep process.
1 oz bourbon – I typically use Four Roses Yellow or Bulleit
1/2 oz cinnamon syrup – I keep some of this in the fridge all winter. It's such an easy way to spice up a classic cocktail by substituting this for simple syrup. Cinnamon Old Fashioned, Cinnamon Manhattan…
1/2 oz fresh lemon juice
1/4 oz honey
2 dash Angostura bitters
Hot water
Pour all ingredients in a mug and stir.
Top with desired amount of hot water. I prefer about 3-4 oz so I can still taste the booze. Typically, I use 1 oz more of the booze than listed above for a stiffer Toddy. If you're a whiskey neat person, I'd recommend 1.5 oz of the bouron + brandy with the rest of the measurements the same. Trust me.
Sip by a fire in your pajamas for maximum enjoyment.
The Glass: Bodum bistro mug.
The Attire: Munki Munki llama pajamas, Essie 'After School Boy Blazer' nail polish.