Our experience with "made to measure" e-commerce companies have been very mixed, which hasn't surprised us. We aren't tailors, so YouTube videos teaching how to measure for the perfect fit can still be a struggle to know if we're executing properly. The majority of the time, we failed. The shirt arrives, and Mark's sleeves are still too long for him, the neck a bit too tight, the quality very disappointing.
Enter Henley Bond.
Individually crafted by hand in Philadelphia, this recently launched company claims to offer "clothing online without sacrificing quality." I proceeded as a skeptic. We went through the routine: pick the style, take the measurements, fill 'em out, send it in, wait and assume you'll be receiving a shirt that's not perfect but good enough. To our surprise, four weeks later Mark's shirt is delivered and…it's perfect. The quality exceeds our expectations and the fit, in Mark's words, "is a dream."
Michael J. Beaumont, founder of Henley Bond, was born in Blackburn, UK and raised in Manchester. He's since lived in Toronto and now calls Philadelphia home. Michael seeks to bring a better, more personalized fit than ready-wear clothing can offer. Below, a short interview with the man himself. Don't miss his gift to y'all at the bottom!
Describe Henley Bond in 5 words or less:
Old-world craftsmanship, modern style.
How do y'all stand out from other "Made to Measure" companies:

We were tailors first, our team have been making bespoke clothing for years, both here and in the birthplace of the craft, the UK. We have everything from bespoke shoes to knitwear in our repertoire, some of which will be coming in early 2016. With
our shirts
, we take a massive amount of pride in our craft, we make everything in the US and do things the way they've always been done: by hand. From pattern cutting to pressing, the human touch makes a big difference in our opinion.
Southern destination you'd most like to visit:
New Orleans, it's been on my list for a good few years now. I had a trip booked back in 2008, but unfortunately it was for the same week Hurricane Ike hit and we had to cancel. I have spent time in Memphis and Nashville though; the music, food and atmosphere in both were incredible!
Currently listening to:
A lot of early jazz of late too, a little Etta James and Lou Reed are great while designing.
Favorite shirt currently available:
Our white, green & navy gingham
. The cloth is beautiful, the details are subtle and it pairs well with everything.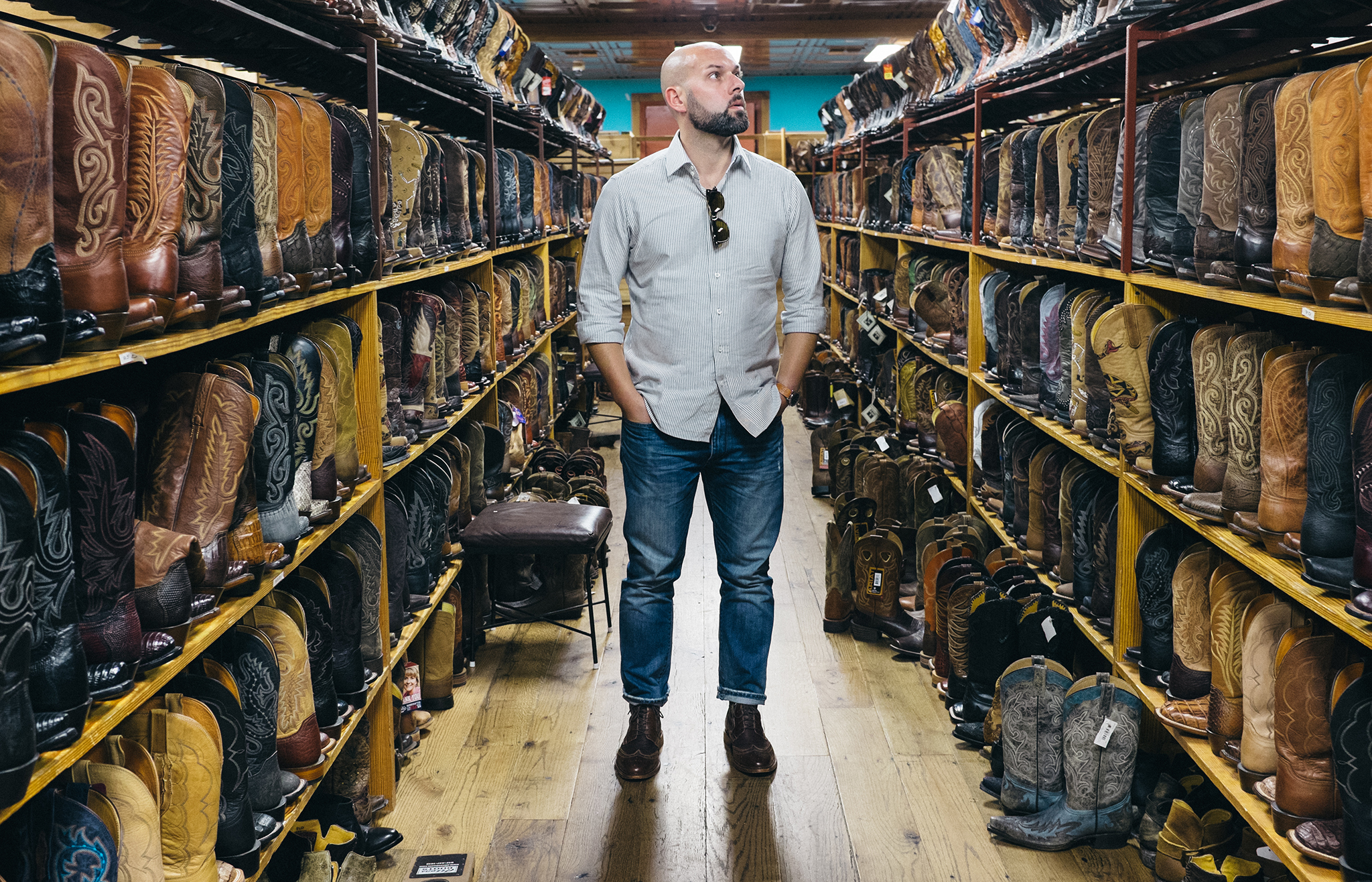 Photographed in Austin, TX in Allens Boots
I can't offer you the heavenly smell of being surrounded by cowboy boot leather heaven like Mark is, but I can offer you a 15% discount on your first
Henley Bond
shirt! Use code 
BDSHB2016
. The offer is good from now until the end of February. Thanks, Michael!